Film walk experience
Pre-register for a #IJF23 sunrise film walk
Just bring your smartphone
The participants absolutely love it and typically thrilled to show off their new skills by sharing their videos on social media with the #Mojo hashtag.
Learn to make better mobile videos
This workshop format is a fun and friendly opportunity to take to the streets to find, capture and edit an original, unscripted film scene with a smartphone.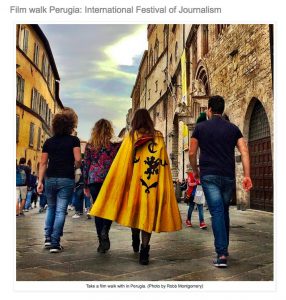 Jan
Robb gave a great introduction to camera technique with the iPhone and practical steps for putting together scenes on film. I learned lots, and enjoyed it, too. Would highly recommend.
Petri
Robb gave us many useful tips about angles and apps we can use to get the best results. I am so enthusiastic about film-making that I try to make one every week! :o)
Sonja
Robb's film class was magnificent! He is friendly, easy going, and knows how to convey what is important in a quick and easy way — even for me as a beginner.
I highly recommend this!
Martin
The workshop with Robb was just fantastic. It was easy to learn the steps how to film and editing with the smartphone. I highly recommend this workshop tour for everyone!